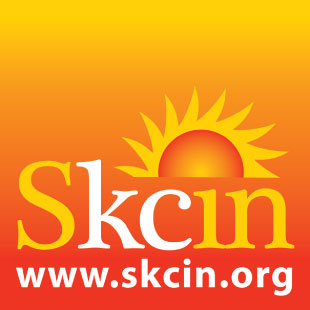 RAISING AWARENESS THROUGH EDUCATION
PROMOTING PREVENTION & EARLY DETECTION CAMPAIGNING FOR CHANGE
SKCIN: THE KAREN CLIFFORD SKIN CANCER CHARITY / REGISTERED CHARITY: 1150048

DONATE TO SKCIN
WE NEED YOUR HELP! PLEASE HELP US TO STOP SKIN CANCER TAKING MORE LIVES. WE ARE HUGELY GRATEFUL FOR YOUR SUPPORT.
Sun Safe Schools
Our Work
SUN SAFE SCHOOLS
Sun Safe Schools is the first and only annual accreditation scheme of its kind that launched in the UK in 2013 with the key objective of preventing skin cancer for future generations. Developed by Skcin, the programme provides all the tools, advice, guidance, resources and support to assist schools in their duty of care to safeguard children against UV exposure and prevent skin cancer through education.
Following a decade of lobbying and consultations, we are proud to report that as of September 2020, sun safety education finally made it onto the national PHSE curriculum. It is now a statutory requirement for all English primary schools to teach children about safe and unsafe exposure to the sun and how to reduce the risk of sun damage, including skin cancer. The Sun Safe Schools programme provides schools with all the FREE resources they need to be able to fulfil their obligations under the new curriculum in addition to creating a robust policy that covers all government guidelines and recommendations, alongside the tools and resources with which to extend vital information across the wider school community.
Further adding to the success of the well-established scheme and the impact it is generating on a national scale, in April 2021 the Sun Safe Schools national accreditation programme became officially recognised as best practice by NICE (The National Institute for Health and Care Excellence). NICE guidelines are evidence-based recommendations for health and care in England. They set to the care and services suitable for most people with a specific condition or need, and people in particular circumstances or settings.
THE ACCREDITATION PROCESS
To gain their Sun Safe Accreditation, schools must complete a 4 step process, providing evidence/feedback on-line, following the completion of each step. Extensive resources have been provided to help schools achieve each step effectively and efficiently, with maximum impact and confidence in outcomes and with minimum strain on valuable time and resources.
STEP ONE: CREATE YOUR SUN PROTECTION POLICY
Our on-line policy maker makes it easy for schools to tailor and download their own Sun Safety policy. This process ensures schools have considered and covered all essential guidelines and recommendations and can be confident that they are implementing a suitable policy to protect their pupils and present to parents.
STEP TWO: COLLABORATE WITH PARENTS
In accordance with a school's tailored policy, a personalised letter is automatically generated to download and send home to parents along with their policy and Sun Safety information also provided to reinforce key messaging at home. This ensures schools are requesting the required level of support from parents, advising them correctly about Sun Safety and doing great work to increase vital knowledge about prevention and early detection across the wider school community.
STEP THREE: CONDUCT A WHOLE SCHOOL ASSEMBLY
A range of resources including assembly plan, presentation slides, music and song are all made available to download, helping schools deliver their assembly, engage children and reinforce the importance of Sun Safety and working together as a whole-school to gain their accreditation.
STEP FOUR: CONDUCT INDIVIDUAL CLASS LESSONS
An extensive range of curriculum linked educational resources for children in reception, key stage one, key stage two and class six are available for schools to download to help develop children's understanding of the benefits and dangers of the sun, to influence behaviours and encourage the development of healthy lifestyle choices.
Upon completion, schools are awarded their Sun Safe accreditation certificate
The accreditation is valid for one year, with a renewal process in place to review their policy, reinforce support with the existing school community, advise newcomers and increase knowledge of sun safety through education. By completing their accreditation schools can confidently provide evidence of their commitment to:
PROTECTION: Providing an environment that enables children and staff to stay safe in the sun.
EDUCATION: Learning about sun safety to increase knowledge and influence behaviour.
COLLABORATION: Working with parents, the management structure and the wider community to reinforce awareness about sun safety.
EDUCATIONAL RESOURCES
Skcin have designed a comprehensive range of bespoke educational resources to introduce Sun Safe teachings to reception class and develop children's knowledge and understanding of UV and the importance of sun safety through key stage one and key stage two, culminating in a specific class 6 presentation, workbook and graduation certificate that ensures children leave primary education with the level of knowledge required as they move on to secondary education.
The Sun Safe Schools programme, really does have it all and the thousands of five star reviews we receive are testament to it's success. Please take time to read through just some of the fabulous feedback we get from schools achieving their accreditation across the UK and beyond!
https://www.sunsafeschools.co.uk/feedback/
PREVENTION IS BETTER THAN CURE
We have long believed that by planting the seeds of sun safety in primary education and influencing behaviours, we can prevent the vast majority of skin cancers for our future generations, combat statistics head on, reduce the massive financial burden skin cancer places on the NHS, but most importantly, save lives.
Schools can register to take part in the accreditation and take advantage of the comprehensive range of free resources at: sunsafeschools.co.uk
Together, we can make a difference and save lives.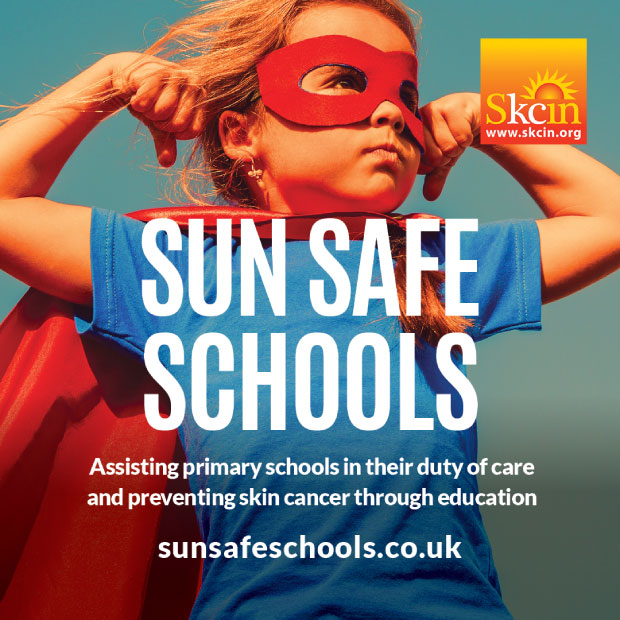 NEW WEBSITE LAUNCHED APRIL 2021
Check out the new Sun Safe Schools website at www.sunsafeschools.co.uk
FREE EDUCATIONAL RESOURCES
View the comprehensive range of resources at www.sunsafeschools.co.uk/resources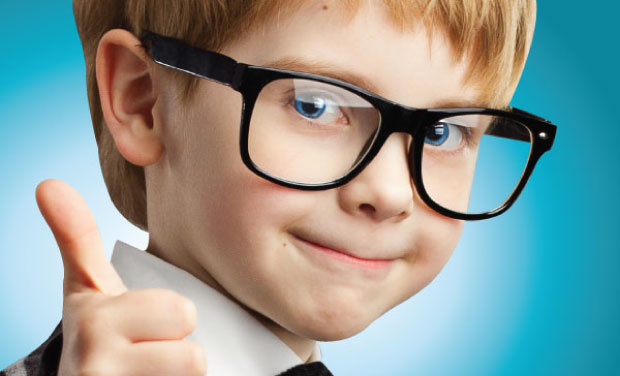 FIVE STAR FEEDBACK FROM SCHOOLS
View the feedback from our Sun Safe Schools www.sunsafeschools.co.uk/feedback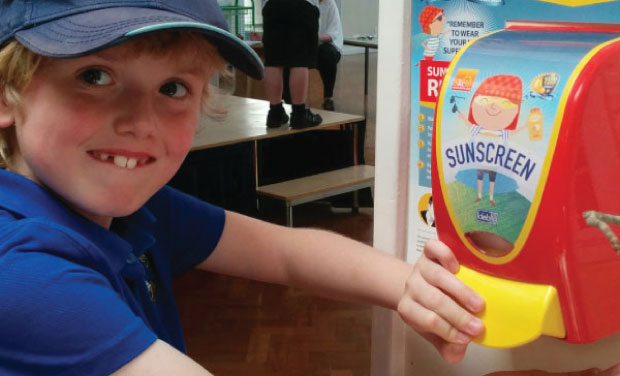 SUNSCREEN AND DISPENSERS
Check out our schools sunscreen range www.sunsafeschools.co.uk/sunscreen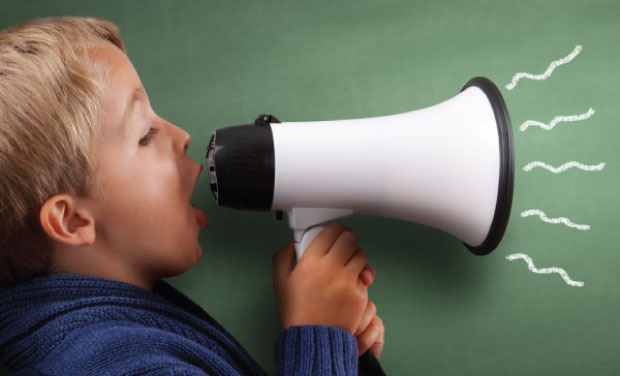 PHSE STATUTORY GUIDANCE
Learn more about the new PHSE curriculum www.sunsafeschools.co.uk/education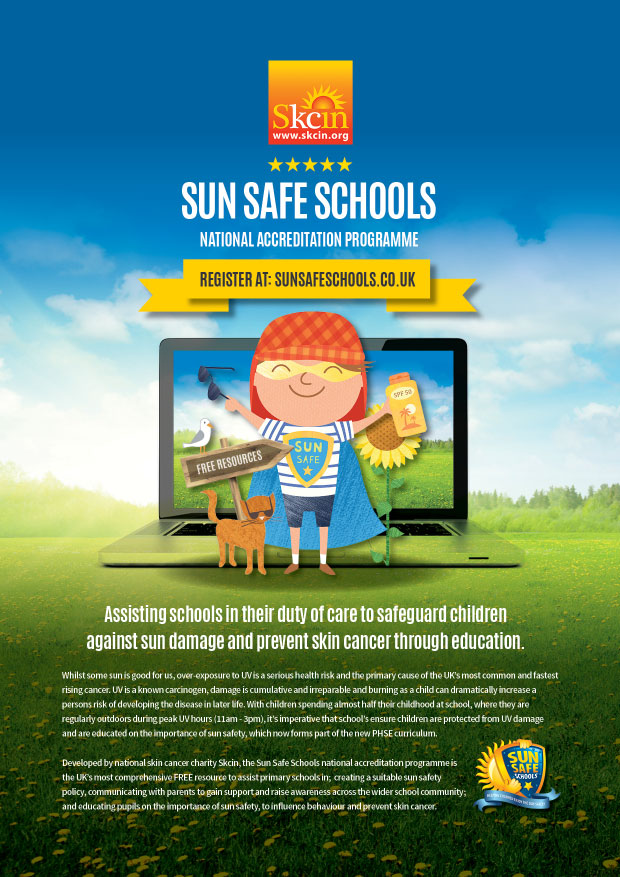 SUN SAFE SCHOOLS (PDF)
Encourage schools to take part in the Sun Safe Schools national accreditation programme by providing them with information.
DOWNLOAD INFORMATION (PDF)