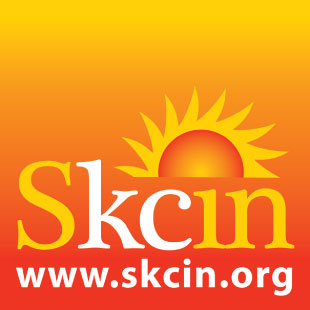 RAISING AWARENESS THROUGH EDUCATION
PROMOTING PREVENTION & EARLY DETECTION CAMPAIGNING FOR CHANGE
SKCIN: THE KAREN CLIFFORD SKIN CANCER CHARITY / REGISTERED CHARITY: 1150048

DONATE TO SKCIN
WE NEED YOUR HELP! PLEASE HELP US TO STOP SKIN CANCER TAKING MORE LIVES. WE ARE HUGELY GRATEFUL FOR YOUR SUPPORT.
Checking the UV Forecast
Sun Safety & Prevention
The solar UV forecast and sun safety:
Checking the UV index is a good way to find out the strength of the sun's UV penetration on any given day and therefore determine the level of sun protection required. The aim of the UV index is to warn people of increased risk and encourage them change their behaviour in order to protect themselves against the risks of skin damage and skin cancer.

When the UV index is at 3 and above, the amount of solar UV radiation reaching the earth's surface is strong enough to damage the skin, which can lead to skin cancer. It is therefore important to frequently check the UV forecast to ensure that the appropriate precautions are taken.
You can check the UV index at any time and for any location via the homepage on this website
The UV index has five categories:
The value of the index ranges from zero upwards.
Low: UV Index of 1-2
Moderate: UV index of 3-5
High: UV index of 6-7
Very high: UV index of 8-10
Extreme: UV index of 11 and above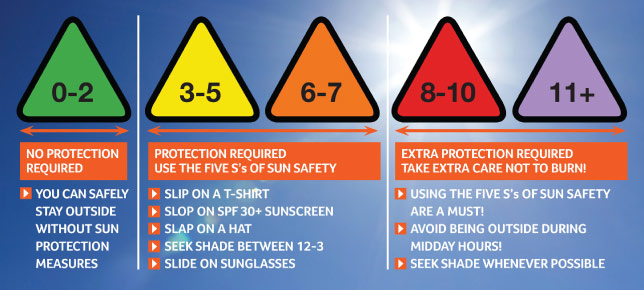 Click here for the real-time solar UV
levels from Public Health England >
Going abroad? Click here to view the UV
forecast for your destination >
Click here for further information about the Solar UV Forecast
---
Articles of interest
100 Miles in May 2021 is back Take on your own 100 Miles in May challenge, whenever or wherever you like between 1...
14th Feb 2021 10:34am
---
Victoria Hexter is MASCED Accredited!
Congratulations to Victoria Hexter for completing the MASCED Accreditation!"Although i felt i had a good knowledg...
2nd Feb 2021 7:15pm
---
National skin cancer charity, SKCIN are delighted to announce an exclusive partnership with University College Bir...
20th Jan 2021 4:49pm
---
Amie Wallace is MASCED Accredited!
Congratulations to Amie Wallace for completing the MASCED Accreditation!"This has made me feel more comfortable wh...
14th Jan 2021 7:16pm
---
Charmaine Chudley is MASCED Accredited!
Congratulations to Charmaine Chudley for completing the MASCED Accreditation!"Very interesting and useful course. ...
4th Jan 2021 9:46am