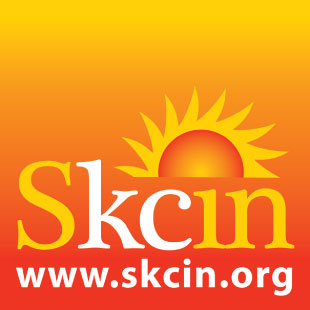 RAISING AWARENESS THROUGH EDUCATION
PROMOTING PREVENTION & EARLY DETECTION CAMPAIGNING FOR CHANGE
SKCIN: THE KAREN CLIFFORD SKIN CANCER CHARITY / REGISTERED CHARITY: 1150048

DONATE TO SKCIN
WE NEED YOUR HELP! PLEASE HELP US TO STOP SKIN CANCER TAKING MORE LIVES. WE ARE HUGELY GRATEFUL FOR YOUR SUPPORT.
Solar UV Radiation
Skin Cancer Information
Solar Ultra Violet Radiation (UVR) cannot be seen or felt and is a
known carcinogen to humans.
Understanding solar UVR is vital for understanding why sun protection control measures are recommended to protect our skin and how if we are not protected properly, UV can damage the skin and lead to skin cancer.
Did you know that UVR from the sun:
Is high-energy radiation, capable of causing damage to living organisms.
Is carcinogenic to humans.
Cannot be seen or felt.
Is not related to temperature.
Can pass through clouds.
Can pass through loosely woven material.
Can bounce off reflective surfaces such as metal, concrete, water and snow.
Is essential to health in small amounts.
What is UVR, UVA, UVB and UVC?
UVR is part of the electromagnetic spectrum emitted by the sun. The sun emits 3 types of ultraviolet
(UV) light/radiation: UVA, UVB and UVC. UVC radiation is blocked by the ozone layer whilst UVA and UVB both reach the earth's surface and penetrate our skin.
UVB rays have a short wavelength that reaches the outer layer of your skin called the epidermis and UVA rays have a longer wavelength that can penetrate the middle of the skin called the dermis.

Small amounts of skin exposure to solar UVR are essential in the production of vitamin D and are beneficial for health. However, it's important to acknowledge that whilst some sun is good for us, it
should not be taken to excess - everything in moderation! To find out more about the sun, Vitamin D and how much daily exposure is recommended click here.

The diagram below shows how the sun's rays penetrate our skin, which rays are responsible for causing damage to our skin and explains the function of sunscreen on our skin.
Please click on the diagram to enlarge.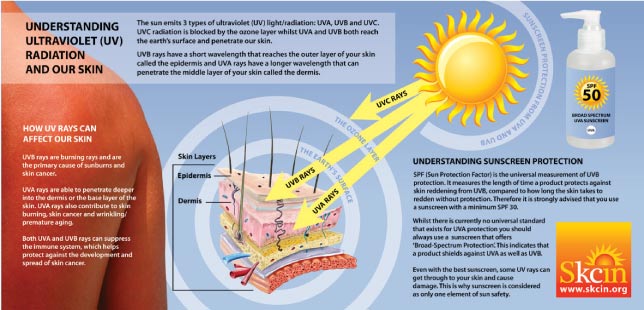 The following related topics may be of interest, please click on the tabs to learn more.
The UV Forecast
Our Skin - Facts
Sunbeds And UV
Vitamin D And UV
---