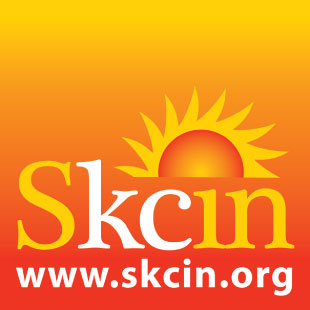 RAISING AWARENESS THROUGH EDUCATION
PROMOTING PREVENTION & EARLY DETECTION CAMPAIGNING FOR CHANGE
SKCIN: THE KAREN CLIFFORD SKIN CANCER CHARITY / REGISTERED CHARITY: 1150048

DONATE TO SKCIN
WE NEED YOUR HELP! PLEASE HELP US TO STOP SKIN CANCER TAKING MORE LIVES. WE ARE HUGELY GRATEFUL FOR YOUR SUPPORT.
Winter Sun Safety
Sun Safety & Prevention
Sun safety and winter sports
With up to 90% of all skin cancers caused by overexposure to UV radiation winter sports enthusiasts are at an increased risk of sun induced skin damage and potentially skin cancer. Skiers and snowboarders often forget to use sunscreen and are more likely to associate windburn and frostbite as skin conditions derived by their sport than sunburn.

Did you know that snow can reflect the sun's UV rays by up to 80%, this combined with a higher altitude can make winter sun every bit as damaging on the slopes as it is on the beach!

Exposure to UV radiation increases 4 to 5 per cent with every 1000 feet above sea level, so the higher the altitude - the stronger the UV penetration. For example at an altitude between 9,000 and 10,000 feet, UV radiation may be up to 45 per cent more intense than at sea level. This compelling fact combined with the increased level of UV that is reflected off the snow (up to 80 per cent) seriously increases a persons exposure to UV and potential skin damage.

Even on cloudy days, winter sports enthusiasts are at greater risk of skin damage - this is because up to 80 per cent of the sun's harmful UV rays can penetrate cloud cover. It is also important to understand that both snow and strong winds can wear away any sunscreen protection used and thereby reduce its effectiveness, so it is particularly important to actively reapply at least every 2 hours.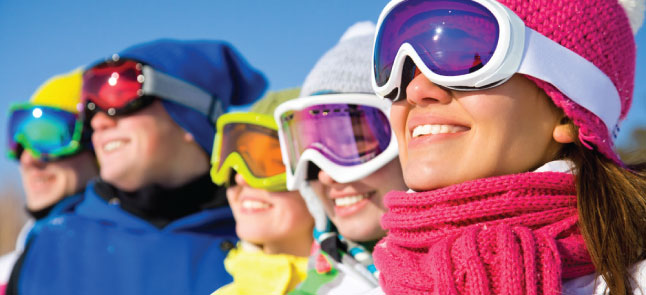 Always use a broad spectrum sunscreen with an SPF (Sun Protection Factor) of 30 or higher and apply at least 20 minutes before hitting the slopes.
Apply sunscreen liberally and evenly to all exposed skin - at least a teaspoon to the face.
Take extra care to cover often-missed spots such as the lips, ears, around the eyes, and on the neck, the underside of chin, scalp and hands.
No matter what the instructions on your sunscreen say, you should always reapply at least every two hours, or immediately after heavy sweating or towelling.
Using a moisturising sunscreen with ingredients like lanolin or glycerin can help combat other affects of winter sports upon the skin.
Always wear a lip balm with an SPF 15 or higher - lips are very sensitive.
Remember to keep your head covered - not just to keep you warm, but protect your scalp from
UV damage.
Wearing ski masks are a good idea as they leave very little skin exposed to the wind and sun.
Sunglasses or goggles that offer 99 per cent or greater UV protection and have wraparound or large frames will offer more protection for your eyes, eyelids and the sensitive skin around your eyes. This is very important as these areas are common sites for skin cancers - not to mention sun-induced aging!
If possible, try to ski early in the morning and/or later on in the day, before 11 AM and after 3 PM
when the sun's UV penetration is lower.
Click here to learn more about solar UV radiation and our skin >
You may also be interested in the following related topics:
Vitamin D Debate
Skin Cancer Facts
Sunscreen Facts
Early Detection
---