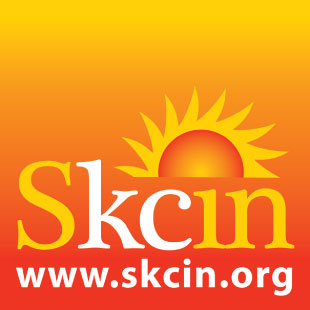 RAISING AWARENESS THROUGH EDUCATION
PROMOTING PREVENTION & EARLY DETECTION CAMPAIGNING FOR CHANGE
SKCIN: THE KAREN CLIFFORD SKIN CANCER CHARITY / REGISTERED CHARITY: 1150048

DONATE TO SKCIN
WE NEED YOUR HELP! PLEASE HELP US TO STOP SKIN CANCER TAKING MORE LIVES. WE ARE HUGELY GRATEFUL FOR YOUR SUPPORT.
Sunbeds - The Facts
Skin Cancer Information
Sunbeds are not safe - FACT!
The World Health Organisation's International Agency for Research on Cancer classified
radiation, from both the sun and artificial UV tanning devices as carcinogenic to humans.
However, the intensity of UV rays in some sunbeds can be more than 10 times stronger than the midday Mediterranean sun!

Using sunbeds for the first time before the age of 35 increases the risk of developing melanoma skin cancer by 59%. Regular sunbed use under the age of 30 increases the risk of skin cancer by an alarming 75%!

Short, intense and irregular UV exposure, like you receive from sunbed use is the fastest way to damage your skin. Damage increases with each session, is irreparable and can lead to melanoma - one of the biggest cancer killers in 15-34 year olds in the UK!

Recent statistics from Cancer Research UK have shown an alarming increase in malignant melanoma (the deadliest form of skin cancer) among women in their 20's and sunbeds are believed to be a contributory factor. The binge-tanning epidemic that is prevalent amongst young women in this country has propelled malignant melanoma above cervical cancer making this deadliest form of skin cancer the most commonly diagnosed cancer in women in their 20s for the first time.

A recent study in the US has revealed that more skin cancer cases are a direct result of sunbed use than lung cancer cases caused by smoking!
A study published by JAMA Dermatology "International Prevalence of Indoor Tanning - A Systematic Review and Meta-Analysis." The number of skin cancer cases due to tanning is higher than the number of lung cancer cases due to smoking.
In the US alone, 419,254 cases of skin cancer can be attributed to indoor tanning.
Out of this number, 6,199 are melanoma cases.

It is a common misconception that sunbeds provide health benefits and help prepare the skin for tanning outdoors. The most common misconception is the vitamin D Debate. For most people just going about their normal business in the summer months is sufficient to produce the required vitamin D levels. We certainly don't need to sunbathe to make enough vitamin D. We can also get vitamin D from certain foods including milk, fish, egg yolks, and fortified cereals. It is also a common misconception that sunbed use prior to going abroad builds a natural defence to the sun's rays, the fact is that UV exposure from sunbeds is exactly the same as the damaging UV rays produced by the sun.

We strongly advise those who seek a tan to switch to sunless tanning options. Fake tanning is a huge market adopted by both men and women who are concerned about UV exposure and wish to take care of their skin. Excessive UV exposure not only dramatically increases your chances of developing melanoma it is one of the most common causes of premature aging and once the damage is done, there's no going back! So next time you consider using a sunbed - ask yourself one question:

To find out more about our work on sunbeds click here >
Skin Cancer Types
Check Your Skin
Melanoma Facts
Early Detection
---
Articles of interest
100 Miles in May 2021 is back Take on your own 100 Miles in May challenge, whenever or wherever you like between 1...
14th Feb 2021 10:34am
---
Victoria Hexter is MASCED Accredited!
Congratulations to Victoria Hexter for completing the MASCED Accreditation!"Although i felt i had a good knowledg...
2nd Feb 2021 7:15pm
---
National skin cancer charity, SKCIN are delighted to announce an exclusive partnership with University College Bir...
20th Jan 2021 4:49pm
---
Amie Wallace is MASCED Accredited!
Congratulations to Amie Wallace for completing the MASCED Accreditation!"This has made me feel more comfortable wh...
14th Jan 2021 7:16pm
---
Charmaine Chudley is MASCED Accredited!
Congratulations to Charmaine Chudley for completing the MASCED Accreditation!"Very interesting and useful course. ...
4th Jan 2021 9:46am