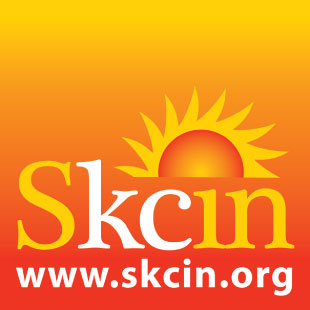 RAISING AWARENESS THROUGH EDUCATION
PROMOTING PREVENTION & EARLY DETECTION CAMPAIGNING FOR CHANGE
SKCIN: THE KAREN CLIFFORD SKIN CANCER CHARITY / REGISTERED CHARITY: 1150048

DONATE TO SKCIN
WE NEED YOUR HELP! PLEASE HELP US TO STOP SKIN CANCER TAKING MORE LIVES. WE ARE HUGELY GRATEFUL FOR YOUR SUPPORT.
The Five S's of Sun Safety
Sun Safety & Prevention

ALMOST ALL SKIN CANCERS
ARE CAUSED BY OVER
EXPOSURE TO UV
That means that almost all skin cancers
are preventable by being sun savvy!

Over 80% of all skin cancers are preventable by following
just 5 simple sun safe measures: Slip, Slop, Slap, Slide, Shade...

A child's delicate skin can burn within minutes causing
irreparable damage - learn how to protect them...
LEARN MORE

Do you know your facts about Sunscreen? Which to buy, what
SPF, UVA protection, how much to apply, when to reapply...
LEARN MORE

Did you know that the snow reflects up to 80% of sun
burning UV radiation! Learn about winter sun protection...
LEARN MORE

Is your child's school or pre-school Sun Safe?
Make sure children are protected during school hours...
LEARN MORE

Do you work outdoors? Is your workplace Sun Safe?
Find out more about Sun Safety in the Workplace...
LEARN MORE
Look after your skin - stay safe in the sun!
Remember it's not just sunbathing that puts you at risk, but being in the sun without adequate protection. If you regularly take part in outdoor hobbies or sports, or work outdoors you could be at greater risk. Make sure you use all of the Five S's of Sun Safety and NEVER BURN!
THE FIVE S'S OF SUN SAFETY:
SLIP on a t-shirt
SLOP on SPF 30+ broad spectrum UVA sunscreen
SLAP on a broad brimmed hat
SLIDE on quality sunglasses
SHADE from the sun whenever possible
1. SLIP ON A T-SHIRT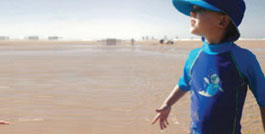 UV protective clothing
gives the best protection
against the sun's UV
Learn More
Clothing can be one of the most effective barriers between our skin and the sun
Clothing should cover as much skin as possible
Always keep shoulders covered that can easily burn
A closer weave will provide more protection
A high UPF rated fabric provides best protection
2. SLOP ON SPF 30+ SUNSCREEN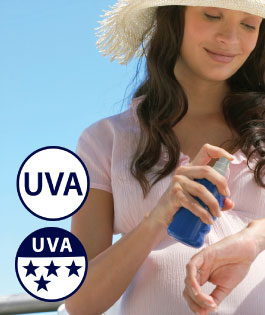 Learn more about
sunscreen, how it
works and which
is best to use.
Learn More
No sunscreen provides complete protection
Never rely on sunscreen alone to protect your skin
Always use a sunscreen with a Sun Protection Factor (SPF) 30 or above, preferably water resistant
Make sure it's broad spectrum and carries a UVA symbol (if it has a star rating, use a minimum 4 star)
Store in an accessible, cool place and remember to check the expiry date
Apply a generous amount to clean, dry, exposed skin
Apply 20 minutes before going outdoors and preferably once again when outdoors
Regardless of the instructions all sunscreens should be reapplied at least every 2 hours and more if perspiring or straight after swimming
Protect your lips with an SPF 30+ lip balm
3. SLAP ON A BROAD BRIMMED HAT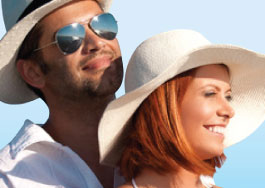 Always wear a hat with a wide brim that shades the face, neck and ears
Legionnaire (with a flap that covers the neck and joins the front peak) or bucket style hats (with minimum 7.5cm brim) are the most effective
A close weave or UPF rated fabric will provide better protection
Warning: Baseball caps do not shade the ears and neck which can easily burn
4. SLIDE ON QUALITY SUNGLASSES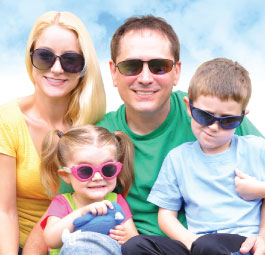 Solar UV radiation can be damaging to the eyes so it is important to wear quality sunglasses
Overall protection depends on the quality of the lens and the overall design
Look for the European CE mark which indicates a safe level of protection
Those labelled with a high EPF (which rages from 1-10) will provide best protection
Ensure they are close fitting and wrap around to stop solar UVR entering the sides and top
Remember price and darkness of the lens have no reflection on the quality of protection
5. SHADE FROM THE SUN WHEN POSSIBLE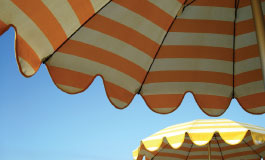 Shade can provide a good barrier between our skin and the sun
Seek shade whenever possible, particularly at the hottest times of the day between 11am and 3pm when UV penetration is strongest
Keep toddlers and babies in the shade at all times
Never rely on shade alone, always combine with personal protection measures
You may also be interested in the following related topics:
Skin Cancer Types
Check Your Skin
Melanoma Facts
Early Detection
---
Articles of interest
100 Miles in May 2021 is back Take on your own 100 Miles in May challenge, whenever or wherever you like between 1...
14th Feb 2021 10:34am
---
Victoria Hexter is MASCED Accredited!
Congratulations to Victoria Hexter for completing the MASCED Accreditation!"Although i felt i had a good knowledg...
2nd Feb 2021 7:15pm
---
National skin cancer charity, SKCIN are delighted to announce an exclusive partnership with University College Bir...
20th Jan 2021 4:49pm
---
Amie Wallace is MASCED Accredited!
Congratulations to Amie Wallace for completing the MASCED Accreditation!"This has made me feel more comfortable wh...
14th Jan 2021 7:16pm
---
Charmaine Chudley is MASCED Accredited!
Congratulations to Charmaine Chudley for completing the MASCED Accreditation!"Very interesting and useful course. ...
4th Jan 2021 9:46am