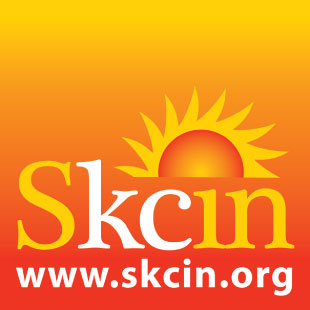 RAISING AWARENESS THROUGH EDUCATION
PROMOTING PREVENTION & EARLY DETECTION CAMPAIGNING FOR CHANGE
SKCIN: THE KAREN CLIFFORD SKIN CANCER CHARITY / REGISTERED CHARITY: 1150048

DONATE TO SKCIN
WE NEED YOUR HELP! PLEASE HELP US TO STOP SKIN CANCER TAKING MORE LIVES. WE ARE HUGELY GRATEFUL FOR YOUR SUPPORT.
Sun Safety in Schools
Sun Safety & Prevention
Is your child's school 'Sun Safe'?
Children spend almost half their childhood at school, with approximately 8 hours per week spent outdoors. During the hotter months of the year children are exposed to UV radiation from the sun, the majority of which is when UV penetration is at its strongest. Without adequate protection, a
child's delicate skin can burn within minutes, causing irreparable damage.
This can significantly increase their risk of developing skin cancer in later life.

Parents should always ensure that children go to school with a broad brimmed sun hat and a broad spectrum SPF 30+ sunscreen for their child to use during extended periods of play outside, like lunch
breaks (when UV penetration is strongest) and outdoor lessons like PE or even school trips.

However, Skcin believe that it's not just parents who have a responsibility to ensure their children are equipped to protect themselves against UV during school hours. We believe that schools also have a duty of care to ensure the health and safety of their pupils, which includes working with both pupils and their parents to not just ensure children have access to sun protection measures, but that they are actively educated annually on the importance of sun safety.

By planting the seeds of sun safety, not just at home, but in the classroom, we can begin to evoke a much needed culture change and shift in attitudes towards sun safety that will significantly reduce
the soaring rates of skin cancer cases and deaths in the UK for our future generations.

This is why Skcin have developed comprehensive, national Sun Safe Schools and Sun Safe Nurseries annual accreditation schemes. The schemes are completely free for all primary schools and preschools and provide a vast and comprehensive array of free teaching resources, with a step by step authenticated guide and annual accreditation for school's to achieve, proving they have implemented a suitable sun safe policy.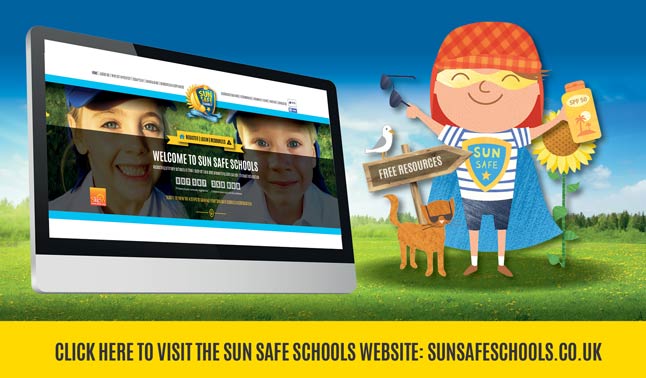 Getting your school to take part:
Parents/carers can help ensure their children are both educated on and protected against UV during school hours by getting their primary school or pre-school setting on board to register with the scheme and take advantage of a vast range of free resources at www.sunsafechools.co.uk
Here's how you can help: Click here to download the parent information and hand in to your head teacher to let them know about the scheme. Thank you!
FREE RESOURCES FOR PARENTS TO EDUCATE YOUR LITTLE SUNBEAMS!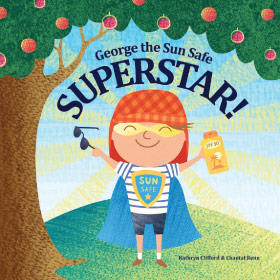 Goerge the Sun Safe Superstar!
As part of the Sun Safe Schools and Nurseries national accreditation schemes, Skcin have written and produced a rhyming, illustrated story to engage primary school aged children and teach them key sun safe messaging in a fun and engaging manner. The book also includes a parental / teacher activity section at the rear to help reinforce the key messages learnt throughout.
Click here to read the book on-screen >
Click here to download a copy of the book in PDF format >
Click here to buy a hard copy of the book >
CHILDREN'S SUN SAFE SUMMER ACTIVITY PACK - DOWNLOAD FOR PARENTS
Do you want to help educate your children on the importance of sun safety?
Click on the 'Sun Safe Summer Activity Pack' tab (right) to download a fun and engaging set of 10 education activities for children aged between 5-11 years produced by Skcin.

Sun Safety & Skin Cancer Booklet
Download all you need to
know in one handy little book
DOWNLOAD NOW

Sunbeds Can Cause Melanoma!
Sunbeds are not safe - fact! Find
out the truth and misconceptions
LEARN MORE

Skin Cancer - The Warning Signs
Learn how to check your skin and
what you should be looking for...
LEARN MORE

Am I at risk of Skin Cancer
Learn about your skin type level
of associated risk and protection...
LEARN MORE
Spotlight Topics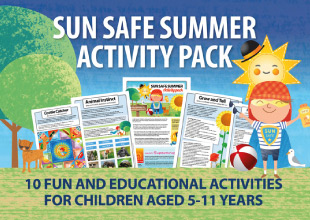 ---