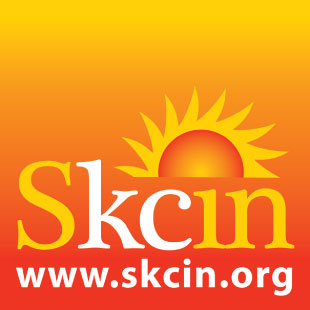 RAISING AWARENESS THROUGH EDUCATION
PROMOTING PREVENTION & EARLY DETECTION CAMPAIGNING FOR CHANGE
SKCIN: THE KAREN CLIFFORD SKIN CANCER CHARITY / REGISTERED CHARITY: 1150048

DONATE TO SKCIN
WE NEED YOUR HELP! PLEASE HELP US TO STOP SKIN CANCER TAKING MORE LIVES. WE ARE HUGELY GRATEFUL FOR YOUR SUPPORT.
Our Skin - The Facts
Skin Cancer Information
Our skin performs the following functions:
A protective barrier eg. against physical injury and penetration of Ultraviolet (UV) radiation
Immune function.
Prevents loss of body fluids.
Controls body temperature.
Plays a role in metabolism eg. getting rid of waste products through sweating.
A role in Vitamin D production.
Acting as a sensory organ and giving us a gripping surface.
If the barrier function of skin is compromised it can have serious consequences.
eg. severe burns can cause fluid loss and dehydration and increase the risk of severe infection.
The skin is divided into 3 main layers:
Epidermis - This acts as protective barrier (UVB and UVA rays penetrate the spidermis).
Dermis - Gives structural support to the epidermis and is composed mainly of specialised proteins called Collagens (UVA rays also penetrate the dermis).
Subcutaneous Layer - This is mainly fat and can be quite thick in certain areas of the body eg. Stomach area.
The most serious health effect of over exposure to UV is skin cancer.
The skin is the largest organ of the body. Skin cancer can grow when the cells that make up our skin are damaged. In most cases this damage is caused by over-exposure to solar UV.

Our body is made up of tiny building blocks called cells. Cells normally grow, divide, die and are replaced in a controlled way. Cancer is a disease that occurs when the cells of the body are damaged, causing them to grow out of control.

The top layer of the skin contains three different types of cells: basal cells, squamous cells and melanocytes. Skin cancer types are named after the type of cell in which the cancer develops.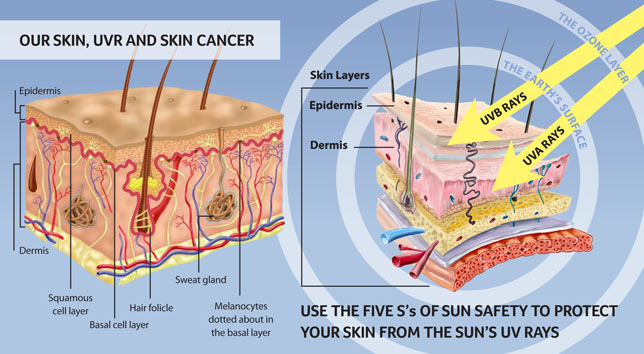 You may also be interested in the following related topics:
Skin Cancer Types
The UV Index
UVR - The Facts
Early Detection
---